OFFISTRA Corp – Query API to access SEC historical filings on EDGAR
OFFISTRA, a registered SEC filing agent, has started to offer SEC EDGAR Filings API service to its existing and potential clients. The service has been developed to help public companies to comply with SEC disclosure requirements and provide valuable information for investors via Data Feed website integration.
OFFISTRA is pleased to announce the official release of its SEC EDGAR Filings API Data Feed Service.
Learn more about OFFISTRA SEC EDGAR Filings API Data Feed Service.
Regular SEC filings are mandatory for public companies, large investors, and certain insiders. These filings are extremely important because while evaluating a company for investment purposes, investors also rely on the information made public by the SEC. OFFISTRA is a SEC registered filing agent with a range of cost-effective disclosure solutions such as EDGAR, SEDAR, iXBRL and now, SEC EDGAR Filings API Service.
In order to ensure compliance with SEC rules and regulations, all filers are required to file their forms, press releases and reports. Furthermore, certain public companies are also required to provide (or voluntarily decide to do so) SEC filings information under the investors' relations section. The new API is designed to integrate into the client's website and list all SEC filings related to the Company in various formats and other corresponding information such as dates, reporting periods, file numbers, etc.
Likewise, API Data Feed from OFFISTRA is also capable of seamlessly integrating with any website, adapting to any design and users will be able to download desired forms in Word, PDF, XML, or Text formats.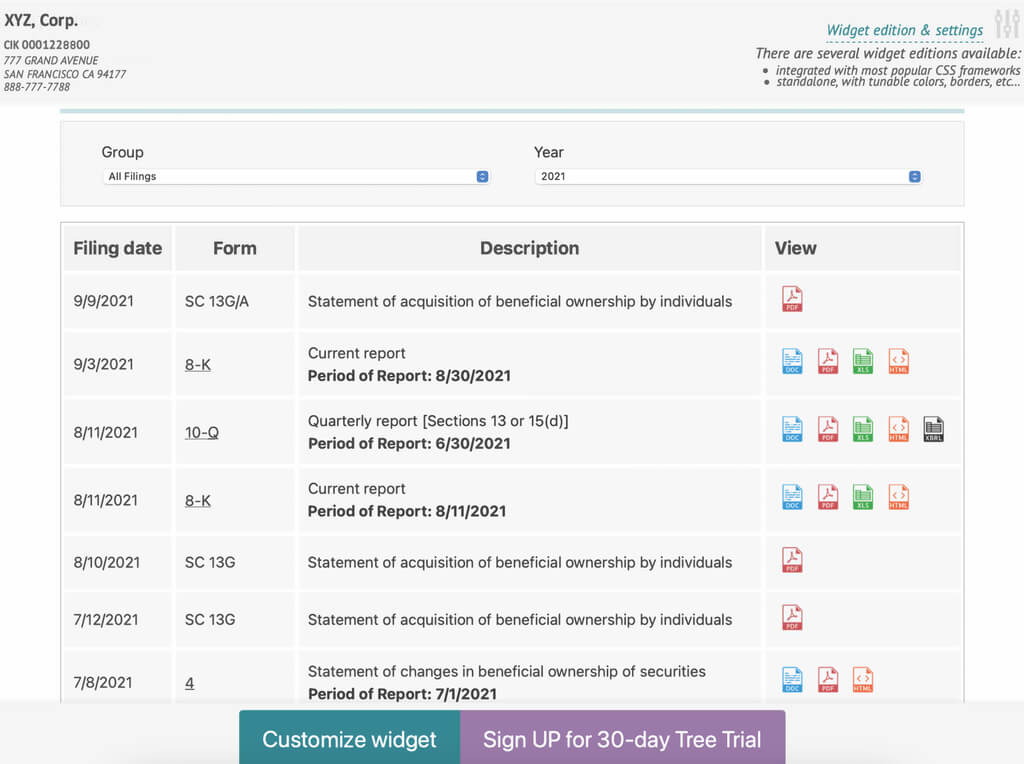 Our IT experts have worked hard to develop the API, and now is the time to start offering the new service for our existing and potential clients. I highly recommend trying our trial option without any obligation to see all features and make a decision after," said a senior spokesperson Mr. Robert Cooper, OFFISTRA's Chief Operating Officer.
OFFISTRA™ Corp is a SEC registered EDGAR filing agent with all range of cost-effective disclosure solutions such as EDGAR, SEDAR, iXBRL, DATAFEED, and meeting the needs of SEC reporting entities since 2011.
Providing competent SEC EDGAR filing services with a highly experienced staff, OFFISTRA is a platform dedicated to excellence and productivity. We offer a variety of high-quality services, including but not limited to a full range of electronic document conversion, also known as EDGARIZING, filing solutions for public companies, mutual funds, investment firms, and individuals required to consistently comply with SEC reporting requirements via EDGAR system, with reasonable and affordable prices for our services.
To find out more about OFFISTRA please visit our website.
On Behalf of The Board of Directors of OFFISTRA, Corp.
​
CONTACT INFO:
Offistra Corp.
Robert Cooper
5933 NE Win Sivers Dr. Ste 205
Portland, OR 97220 USA
(855) 634-7872‬
robert.cooper@offistraedgarfiling.com
https://offistraedgarfiling.com