OFFISTRA®, a registered SEC filing agent, expanded service offerings with API Data Feed Service and see growing interest in the product.
The API Widget offers a quick & easy solution that doesn't require hours of IT development or data maintenance and can be seamlessly integrated with any website platform within a minute, such as WordPress, WIX or Squarespace for instance, by inserting a code into a webpage HTML. "The main reason why we created the API were our existing SEC Filing clients, from which we have seen a high demand for such solution. Now, the fully working API Widget from OFFISTRA® proved to be a successful solution for Investor Relations Webpage. Likewise, the API certainly helps our clients to improve their corporate websites with minimal efforts" said Robert Cooper, Chief Operating Officer.
"The fully working SEC Filings API Widget from OFFISTRA® proved to be a successful solution for Investor Relations Webpage."
— Robert Cooper
Anyone can try a fully functional API Widget on SEC EDGAR Filings API Services* webpage by signing up for one month trial period without any commitment.
In addition to API Widget, as a registered SEC filing agent, Offistra® started to provide consulting services. If you are a Public Company trading on a major stock exchange or Over-the-Counter (OTC) market, filing on a regular basis of
financial statements, current reports or Section 16 filings* are required and important, in order to comply with disclosure requirements, maintain transparency and keep investors informed. Besides form filings, Publicly Traded Companies are often requiring assistance with new CIKs applications (Form ID*), maintaining EDGAR Access Codes*, or keeping SEC EDGAR Profiles up to date. Offistra Team* is ready to help, and such services are free of charge for existing clients.
Offistra Team* can be reached at (971) 999-1515 or at info@offistraedgarfiling.com OFFISTRA® CORP, is a firm specializing in SEC EDGAR Filing services* and Investor Relations solutions.
Robert Cooper
Offistra Corp.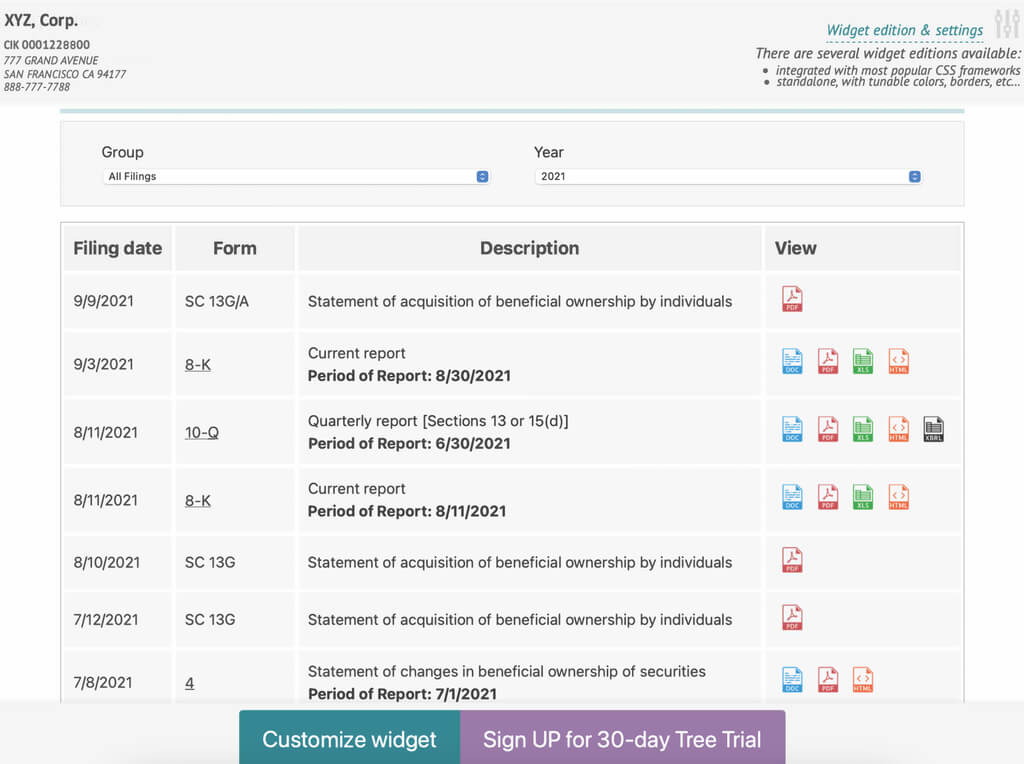 Our IT experts have worked hard to develop the API, and now is the time to start offering the new service for our existing and potential clients. I highly recommend trying our trial option without any obligation to see all features and make a decision after," said a senior spokesperson Mr. Robert Cooper, OFFISTRA's Chief Operating Officer.
OFFISTRA™ Corp is a SEC registered EDGAR filing agent with all range of cost-effective disclosure solutions such as EDGAR, SEDAR, iXBRL, DATAFEED, and meeting the needs of SEC reporting entities since 2011.
Providing competent SEC EDGAR filing services with a highly experienced staff, OFFISTRA is a platform dedicated to excellence and productivity. We offer a variety of high-quality services, including but not limited to a full range of electronic document conversion, also known as EDGARIZING, filing solutions for public companies, mutual funds, investment firms, and individuals required to consistently comply with SEC reporting requirements via EDGAR system, with reasonable and affordable prices for our services.
To find out more about OFFISTRA please visit our website.
On Behalf of The Board of Directors of OFFISTRA, Corp.
​
CONTACT INFO:
Offistra Corp.
Robert Cooper
5933 NE Win Sivers Dr. Ste 205
Portland, OR 97220 USA
(855) 634-7872‬
robert.cooper@offistraedgarfiling.com
https://offistraedgarfiling.com